NDR374: 4-channel 3u vpx Digital Tuner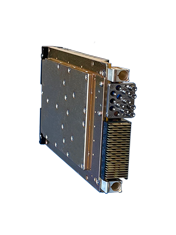 The NDR374 digital tuner is a 4-channel, superheterodyne downconverter that covers RF signals from 2 MHz to 8 GHz. The NDR374 is a rugged 3U conduction cooled VPX module, per VITA 46/48/65/67 and is aligned with the SOSA™ Technical Standard. The NDR374 is a 3U open architecture version of the existing NDR358 tuner to include RF performance, command set and DSP-based modes of operation (the NDR374 enables efficient system integration for existing NDR358 users). Integrated high dynamic range 16-bit Analog-to-Digital converters (ADC's) are utilized to digitize an 125 MHz wide IF at 368 Msps sample rate. Command and control of the digital tuner are via a 1G/10G Ethernet interface and power is derived from the P0 12V power supply input (60W power consumption). An on-board Xilinx MPSoC UltraScale FPGA is used for the channelizer, the VITA-49 formatter, data multiplexer and the Digital IF data interface. The Data Plane Digital IF output simultaneously provides both full bandwidth Digital IF data along with multiple narrow bandwidth DDC outputs.
APPLICATIONS
Rapid Spectral Search
Multi-channel DF and Beamforming
High Performance Airborne SIGINT
Wideband Recording
For a formal quotation, please contact sales@cyberradiosolutions.com

NDR374 Technical Datasheet
[
Download PDF
]
To request a full datasheet, please click here.