NDR154: Multi-Band RF Distribution Module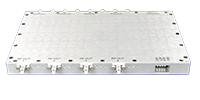 The NDR154 is a compact RF antenna multicoupler unit that allows multiple banded antenna inputs to be switched to multiple wideband receivers with associated analysis devices to support RF collection, monitoring and analysis applications. The NDR154 is designed with superior noise figure and channel to channel isolation to support the variety of system configurations and requirements. The compact size and low power makes it ideal for installations in a variety of transportable applications.
APPLICATIONS
Spectrum Monitoring
Frequency Analysis
Test and Measurement
Training Systems
For a formal quotation, please contact sales@cyberradiosolutions.com

NDR154 Technical Datasheet
[
Download PDF
]
To request a full datasheet, please click here.