NDR301: Dual-Channel Wideband Digital Tuner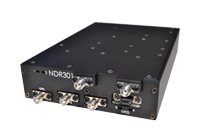 The NDR301 is a dual-channel wideband digital tuner that covers commercial wireless bands between 20 to 3000 MHz. Each tuner channel supports aninstantaneous digitized bandwidth of up to 75 MHz.The digital processor includes FPGA-based channelizer filters to reduce the data rate and lower processing overhead of external signal processing equipment. FPGA loads are available for either raw wideband I&Q data, or signal-specific channelizers such as GSM. The digital IF output is transmitted over a 1 Gigabit Ethernet interface, using a non-proprietary VITA-49 data format. The RF front-end includes a sub-octave preselector in a traditional superheterodyne RF conversion architecture. The unit is packaged in a light-weight aluminum chassis that provides RF shielding, thermal management, and protection suitable for uninhabited airborne environments.
APPLICATIONS
SDR via GNU built-in radio module
Radio Signal Processing (FM radio, GNSS Navigation, Cellular)
Wireless drive test platform
Wideband signal recording
Low-SWaP airborne sensor
Unattended sensors, ethernet control for remote RF monitoring
Spectrum Monitoring
For a formal quotation, please contact sales@cyberradiosolutions.com
NDR301 Technical Datasheet
[
Download PDF
]
To request a full datasheet, please click here.